Client purchased a service company which used a mix of off-the-shelf and custom desktop software applications to handle the entirety of their business. None of the applications shared a database thereby requiring data to be entered manually across the different applications. Discrepancies in the financial reports, inability to track procedures, lack of responsiveness to known bugs, and poor web integration in the custom software made the client look for better software solution.
Issues:
Accounting errors
Multiple software applications to manage the business
Incomplete reports
Developer non-responsive to updates
Unable to track standard operating procedures
Archaic method to track tech training and licenses
Goals:
Design a single application
Reduce complexity
Generate in-depth reports across business
Track technician training and certifications
Design a customer portal for paying bills and scheduling a service via website
Generate reports required by city, county, and government bodies
Develop flexible scheduling component that allows assigning technicians based on proximity
Shift toward paperless
Resolution:
Designed a single, cloud-based web application to handle all aspects of business including accounts payable, accounts receivable, scheduling technicians, extensive business reporting, customer care. An API was built to integrate a mobile application with the web application. The project included an on-line customer center for customers to pay their bills, schedule services, and request updates to their account information.
Features included
Accounting component
Monthly reports
Billing
Paperless billing
Payment
Profit and loss reports
Customer aging reports
Web-based payments for customer portal
And more comprehensive reports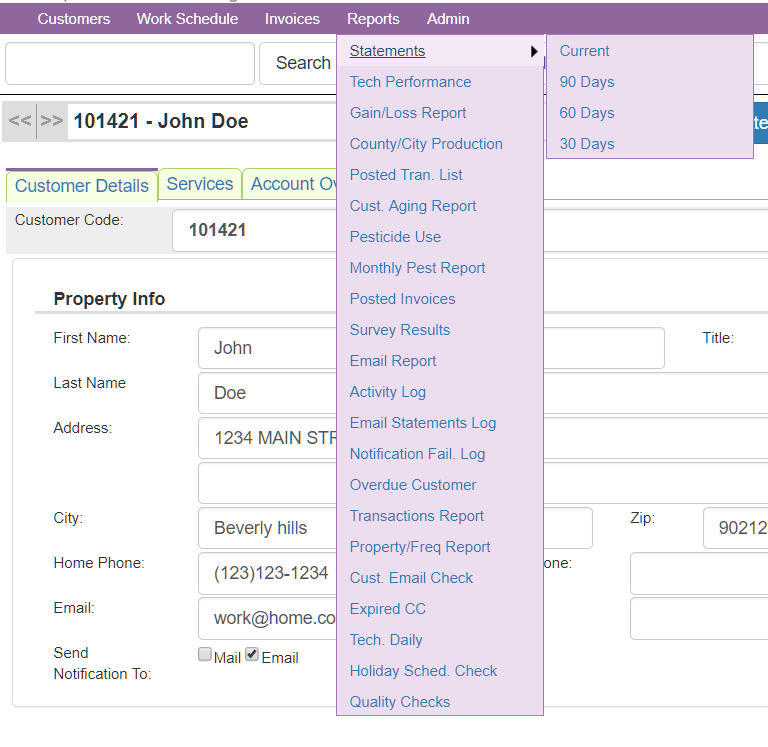 Service component
Scheduling
Route adjustments on the fly
Google Maps Integration
Technician performance – training and certifications
Customer Service
Customer retention program
Track customer calls
Procedures to create consistent customer service experience
Ability to attach files, pictures, contracts to customer account

Mobile app for technicians
Download Route
Get direction to appointments
Enters treatment and chemicals used
Logs activity
Take photos, notes and attach to account
Collect customer signature
Uploads data to main database